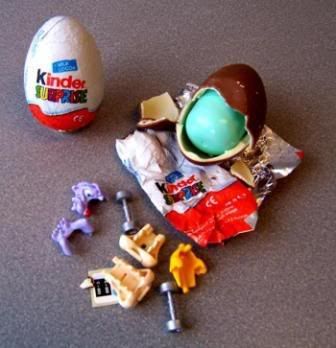 This story
has to be filed under another yet
WTF momen
t.....maybe I should have a WTF Hall of Shame...hmmmm, that sounds cool. Tragic in some cases but in others definitely cool.
Anyway, today's WTF moment comes courtesy of the border folks at the Pembina, North Dakota, key port of entry from Manitoba to the United States of America.
It seems that a Winnipeg mom was crossing the border with her children and what should have been a routine crossing turned into a farce.
Now for those of you who need to be schooled in terms of cool things made of chocolate that also contain really neat toys I have found no better example than that of the
Kinder Surprise egg
. Man, these are so much fun to eat and to open up (to find the surprise toy) that many of my friends who own businesses no longer stock these concoctions because they wind up eating them and opening them up and.....you get the drift.
Kinder Eggs, not just for children but for us old farts too!
It seems the Americans have deemed these treats "dangerous" and thusly have banned them. Hmmmm......yet, even if one is a total psycho they can go out in some states and buy a gun and ammo without having to have a vetted permit and perhaps subsequently kill children amongst other humans or critters? Yeah, file that one under "farcical".
Kinder Eggs have been available in Canada since.....hmmmm, decades. I cannot recall hearing a story on the news whereby some kid died as a result of the egg itself. Of course there are many stupid and uncaring parents out there who whilst passed out or busy on angry conservative chatrooms may not be able to watch their kids.....oh that is a load of crap. We have I would imagine just as many per capita stupid, neglectful parents in this country! So why ban the egg?
I mean seriously, look at this chocolate egg.....the "surprise" is encased in this plastic capsule and trust me on this, it is a hard bugger to open up. I lift weights and make bread and I still have to get a guy to open this thing up! And logic would follow in that if I cannot open up the capsule what makes the US government believe that a toddler could do that?
Stupid, stupid and stupid....and not fun. But you wanna hear what is really stupid? The woman has to now send a letter to the authorities giving them permission to destroy said contraband but that if she wishes to challenge their authority she will be charged for storage of said $2 chocolate egg.....the cost - $250.
You know guys, readers, fans, stalkers? - if this is not crazy I do not know anymore....btw that their edicts and such were worded in a seven-page letter? How many words does it take to say, sorry, but this is not permitted, have a nice day?
I think I will have some chocolate now.....mmmmmmmmm. Better already.